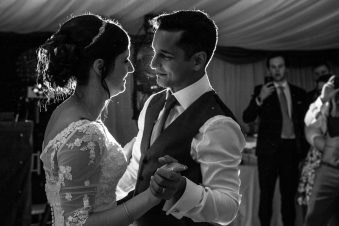 Blog
The Wedding of Hannah and Jonny – St Thomas' Church, Bedhampton
Hannah and Jonny were put in touch with me through a friend. I can't thank that friend enough! Weddings are always a friendly, upbeat time and these guys didn't disappoint. Starting at St Thomas' Church in Bedhampton, we ended up in one of their friends gardens for the reception.
Bedhampton has been here a long time! It figures in the Domesday Book, where its name was Betametone.
And it's from the Domesday book we can see that St Thomas, 900 years old, was not the first church here, but that there was a Saxon Church before it.
So let's go back a little further in time…
In 501 Saxons invaded Portsmouth, defeating the inhabitants and taking possession of all the surrounding countryside, including Bedhampton. During the next three hundred years the village must have developed, as records exist that in 837 the Manor of Bedhampton and its lands were granted to the Cathedral Church of Winchester by Egbert, King of Wessex.
During the reign of the Saxon King Alfred, Danish invasions commenced, pillaging the village and laying it waste. Further Danish invasions followed, until all England was conquered, and Canute (sometimes spelled Cnut) was proclaimed King. It was at nearby Bosham, story has it, that he showed he could not repel the sea. Shortly after his death in 1035, Bedhampton Manor was let to Alsi, who held it until the Normans took possession in 1066.
In 1086 William The Conqueror ordered a census of the whole land – the Domesday Book – and under the heading of "The land of St. Peter, Winchester", Bedhampton has the distinction of a direct mention. The entry states
"Hugo de port ten. de abbatia BETAMETONE. Alsi tenuit de……"

"Hugh de Port holds Betametone of the Abbey. Alsi held it of the Abbot. In the time of king Edward, as now, it was assessed at 10 hides. There is land for 8 ploughs. In the desmesne is 1 plough and there are 12 villeins and 7 bordars with 7 ploughs. There are a church and 7 serfs and 2 mills for use of the Hall and 2 salt pans worth 37 shillings and 8 pence; and 3 acres of meadow. There is a woodland worth 30 swine. In the time of King Edward, as now, it was worth 12 pounds. When received it was worth 10 pounds".
As time moved on Bedhampton's name changed from Betametone to Bethameton & Bethametona (one source dates this use from 1167 to 1242), and thence to Bedhamton and Bedhampton.
Ok, the weather could've been a little more forgiving on the day but rain never really stops play. Thanks for having me guys. I hope you're both doing well. Here's a few from the day, starting with the engagement shoot.